5. Campaigns



Campaign, information design and ads / 2022
'Start a Travel Business' Content Series Duffel

Duffel is focused on democratising the travel industry through easy-to-use APIs. Building the infrastructure that underpins the travel industry in an effort to make it accessible for anyone who wishes to sell travel.

We worked on this as the Acquisition team — we were 3 designers, 2 content writers and 1 developer. A cross-team collaboration between Marketing, Brand Design and the UX Products team. The campaign was set to launch right after our brand refresh release so the scope was big. The 3 of us put our heads together to gather inspiration and carry out explorations, which we presented to the rest of the Acquisition team in a number of workshops, as well as the wider Design team in our weekly crits.

Once we nailed down the look and feel and most of the landing page, we took care of a long list of deliverables. I took charge of the social media assets and a wide range of paid posts and ads, as well as the infographics required to aid the content.

The project took just under 2 months from start, working out the structure and content — to finish, implementation of landing page and go-live on paid posts, social ads and webinar.

The main goal of this campaign was to break down any misconceptions of starting a travel business and encourage any prospects through education and guidance. The campaign was created to serve as a resource first, without being too salesy.

See campaign landing page here︎︎︎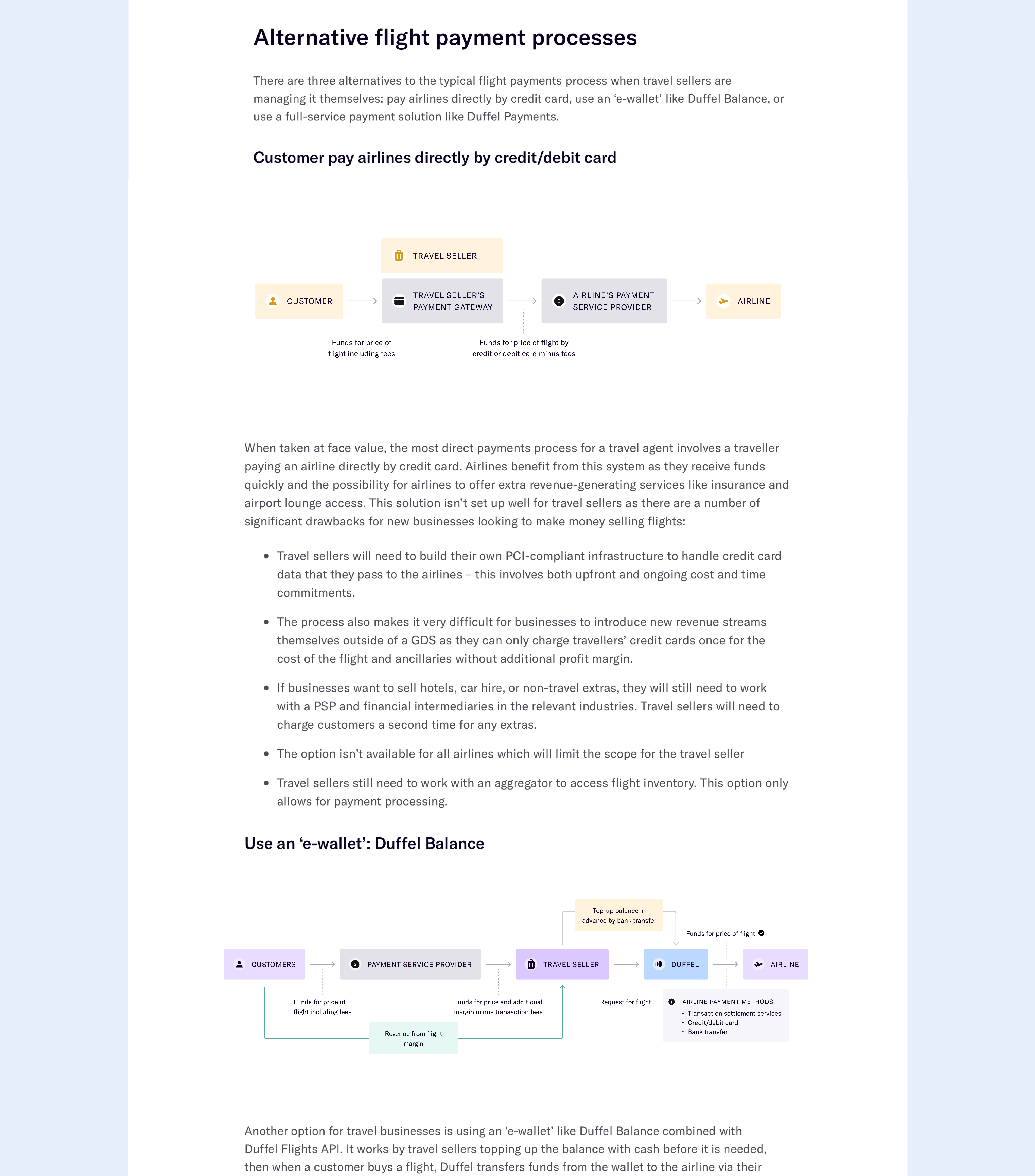 Some of these diagrams were created to explain the travel industry as it is — for which I used duller colours and made look as complex as they actually are. The other diagrams were created to explain how the same processes are way more straight-forward with Duffel — hence the richer use of Duffel colours and simplicity.





A small selection of ads created for the campaign.

Campaign and information design / 2022
Concept for a Content Series Duffel




We worked on this project as the Acquisition team once again — we were 3 designers, 2 content writers and 1 developer. A cross-team collaboration between Marketing, Brand Design and the UX Products team.

One of the most frequently asked questions to Duffel at the time was:
"but, how do you actually make money selling flights?"
Having this in mind, we decided to invest time in creating a campaign to educate on this widely sought after matter. The goal was to objectively educate on this matter, whilst tastefully attaching our brand to the information. Becoming thought leaders in the industry.

Having already worked on a successful campaign in the past few months, we decided to work faster on this one and use the designs we created as templates. It took us about 1 month from concepting to social media assets.

My role was to support the Senior Brand Designer in the concepting stage and creation of the landing page and assets. Whilst taking care of the information design pieces supporting the content in this series.



The designs clearly showed what the 'leisure travel' and 'business travel' user journeys look like, and where in the journey it is possible to make money via markup, ancillaries, customer experience, loyalty, and more.